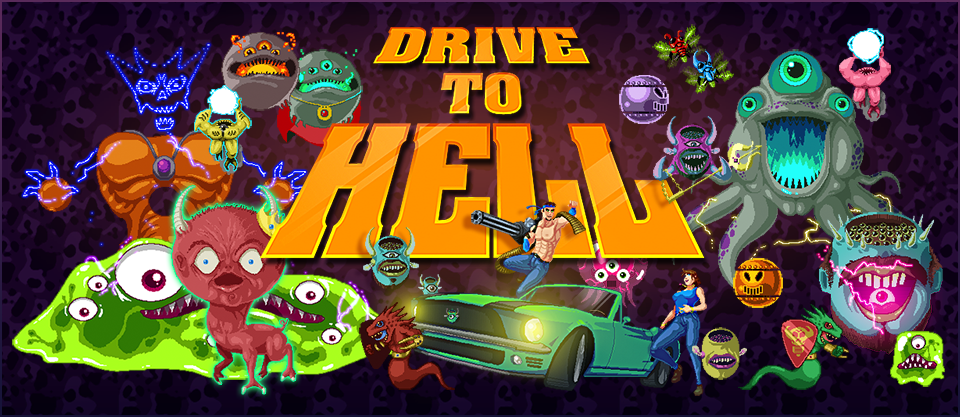 Drive to Hell
A downloadable game for Windows and macOS
Drive to Hell is an action-packed shooter where you'll take a ride through an army of monsters to exact revenge on the Demon King for destroying your favorite dive bar.
Up to 4-Person Local Multiplayer
5 Levels with 5 Waves apiece, each with its own unique look
4 Difficulty Settings, challenging beginners and experts alike
Endless Survival Mode
Over a Dozen Powerups & Weapons
Hordes of Deadly Monsters, including 5 Bosses
Numerous vehicles each with their own stats & special abilities
Trophy System with a reward for completion
Original Soundtrack
3 Control Options (keyboard/keyboard & mouse/controller)
Customizable Options for Sound & Display
Drive to Hell is a Shoot 'Em Up game at heart, but it plays a little differently than usual. Enemies spawn from random locations outside the screen area, making the center of the screen your friend. This puts more pressure on players to utilize the entire screen in their playing style (rather than hanging out at the bottom/back of the play field which is typical in many other shooters), making the smart use of hard braking, Nitros, etc. key.
Drive to Hell also uses grounded vehicles rather than aerial, so you will have to take water obstacles, walls, etc. into consideration as well as your vehicle choice — trucks and armored cars aren't impeded by liquids (the hovercraft actually gains speed!) but they will have tougher time dodging enemy fire.
Each vehicle has a unique appearance and set of stats determining firing power, special attack duration, health, and size as well as its own personal special attack that works either offensively or defensively. This allows you to choose the perfect one for your play style, whether it's flying around the screen quickly in a fragile indy car or bulldozing through foes with a huge armored car.
You can listen to the soundtrack or download the Digital Album here on our BandCamp page.You'll have the option to immediately download of 8-track album in the high-quality format of your choice (MP3, FLAC, and more), plus unlimited mobile access using the free Bandcamp listening app.
Purchase
In order to download this game you must purchase it at or above the minimum price of $4.99 USD. Your purchase comes with a Steam key. You will get access to the following files:
Drive To Hell Mac.zip
54 MB
Drive To Hell Windows.exe
44 MB